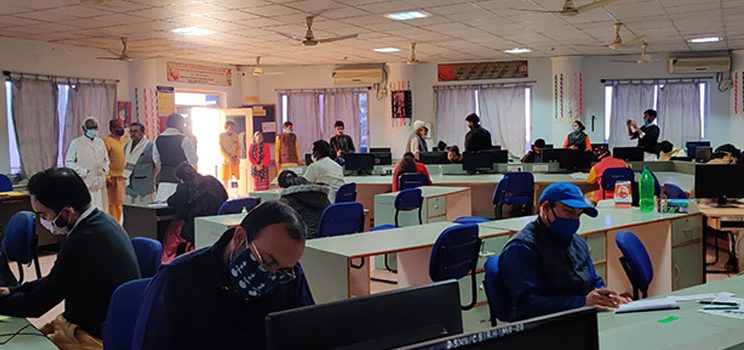 DSVV Conducts Ph.D. Entrance Examination Observing Covid-19 Standards
The Entrance Examination for Ph.D. courses was held at the Dev Sanskriti Vishwavidyalaya on 6th December 2020. During the Entire Examination, Covid-19 Standards were strictly followed. To observe the rules, a medical fitness certificate was required by all the applicants to be submitted at the gates of the University. Masks and sanitizers were made available at all gates.
According to the Controller of Examination, Dr. Krishna Jhare, and the Coordinator of the Ph.D. Cell, Dr. Smita Vashishth, in all 107 forms were received in which 50 were UGC-NET qualified hence they will be required to appear at the Interview directly. The rest 57 appeared for the written entrance examination.
The first paper of the examination, Research Methodology, was compulsory for all. While the second paper, related to the subject of the student, was objective in nature. Every member of the Examination department performed their tasks smoothly. The Deputy controller of Examination, Dr. Santosh Vishwakarma, looked after the orderly organization of the examination while the other Deputy Controllers of Examination, Dr. Arunesh Parashar and Dr. Umakant Indoliya, streamlined the entire system of Exam Management. All of them contributed significantly in the seating arrangements of the students, their numbering, and solving their immediate problems.
The Pro-Vice Chancellor of the University, Dr. Chinmay Pandya, said that since the very beginning such arrangements have been made for the research examination that the students become creative and can easily face all the problems coming in the midst of their research. In this regard, all programs have been made keeping in mind the new education policy.
Read the News in Hindi
देव संस्कृति विश्वविद्यालय की पी.एच.डी. प्रवेश परीक्षा आज सम्पन्न हुई। सम्पूर्ण परीक्षा में कोविड-19 के मानदण्डों का कडाई से पालन किया गया। इस हेतु सभी गेटों पर कोविड-19 का सर्टिफिकेट जमा किया गया जो विद्यार्थियों द्वारा मंगाया गया था। सभी गेटों पर मास्क एवं सेनेटाइजर उपलब्ध थे। परीक्षा नियंत्रक डाॅ. कृष्णा झरे एवं पी.एच.डी. समन्वयक डाॅ. स्मिता वशिष्ठ के अनुसार कुल 107 फार्म प्राप्त थे जिसमें 40 विद्यार्थी नेट थे इस कारण वह केवल साक्षात्कार में ही उपलब्ध होंगे। लिखित परीक्षा में कुल 65 विद्यार्थियों ने हिस्सा लिया। परीक्षा में पहला पेपर रिसर्च मेथोडोलाॅजी का था जो सभी के लिए अनिवार्य था। इसके साथ ही दूसरा पेपर विद्यार्थी के विषय से सम्बधित था जो वस्तुनिष्ट रूप में था। परीक्षा विभाग के सभी सदस्यों ने अपने-अपने कार्यो को सुचारू रूप से सम्पन्न किया। उपपरीक्षा नियंत्रक डाॅ. संतोष विश्वकर्मा ने पेपर को सुचारू रूप से करवाया तो वही दूसरे उपपरीक्षा नियंत्रक डाॅ.अरूणेश पाराशर, डाॅ.उमाकांत इंदौलिया ने परीक्षा प्रबंधन की सम्पूर्ण व्यवस्था को सुव्यवस्थित किया। विद्यार्थियों के बैठने, उनकी नंबरिंग एवं उनकी तत्कालिक समस्याओं के निदान में सभी उपपरीक्षा नियंत्रक ने महत्वपूर्ण योगदान दिया। इस हेतु विश्वविद्यालय के प्रतिकुलपति डाॅ. चिन्मय पण्ड्या ने कहा कि शोध परीक्षा में प्रारम्भ से ही इस प्रकार की व्यवस्था की गई है कि विद्यार्थी रचनात्मक बने एवं शोध की सभी समस्याओं का आसानी से सामना कर सके। इस सम्बंध में नई शिक्षानीति को ध्यान रखते हुए सभी कार्यक्रमों को बनाया गया है।